Events
Friends on the Trail: Forest Park Cleanup
June 11th, 2013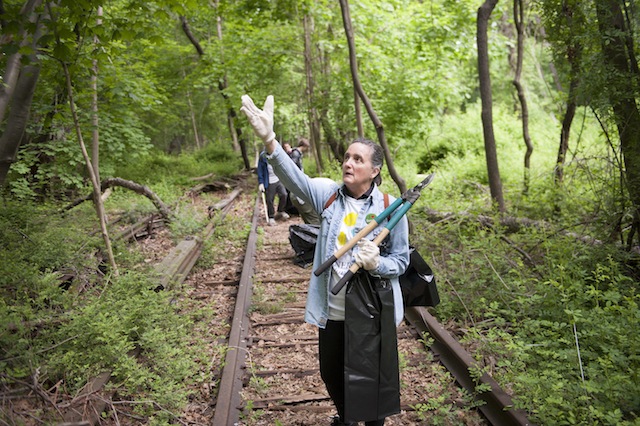 On Saturday, May 18th, the abandoned rails of the Rockaway Beach line running through Forest Park were hosts to an unusual sight. More than thirty local residents wielding trash bags, rakes, shovels, and pruners gathered to clean up the site. The group, organized by Friends of the QueensWay, included volunteers from Central and Southern Queens, City Parks officials, and students from the nearby MELS academy. Inspired by a common goal of building the QueensWay from the ground up, they began the process of reclaiming the area's largest parcel of unused open space for public use.
The Friends of the Queensway, partnering with The Trust for Public Land, are in the process of interviewing potential consultant firms to conduct a feasibility study of the project area. While the RFP has attracted nearly 30 proposals from top design firms, both domestic and international, FQW volunteers continue to focus on bringing the project to the communities of QueensWay project area. The May 18th cleanup is the first in a series of events to engage the public in planning and promoting the project.
"This was a wonderful opportunity for the community to gain access to the Queensway and share in the vision of its potential," said Andrea Crawford, member and former president of Community Board 9 and member of the Friends of the Queensway Steering Committee.
After just a few hours and 22 bags of trash removed, the transformation at the Forest Park rails was clearly visible. Tyler Gumpright, FQW volunteer from Elmhurst, saw this work as more than just symbolic. "We actually made a dent in restoring the QueensWay" he said. We may be years away from a greenway connecting Rego Park to Ozone Park, yet for those who participated on Saturday, it felt real and in reach, one trestle at a time.
To read more from NY Daily News click here
Special thanks, for all of their help, to NYC Parks staff, especially Forest Park Administrator Debby Kuha and Park Manager Helaine Basher-Soressi.
Special thanks to Ahron Foster for the beautiful photos.