Events
3 Things I Learned About Queens On The QueensWay Bike Tour
August 19th, 2015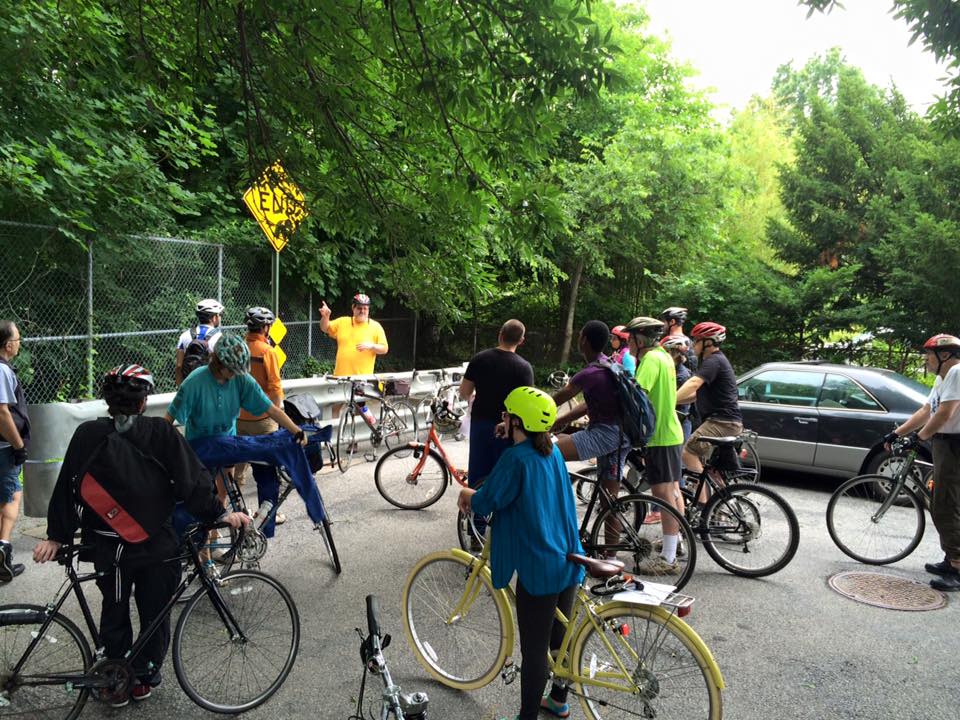 3 Things I Learned About Queens On The QueensWay Bike Tour
By Tarley Jordan, Forest Hills Resident
I've lived in Forest Hills in Queens for just over three years, and I first heard about this idea called the QueensWay when I was living close to Yellowstone Boulevard. Just blocks away from the abandoned LIRR Rockaway tracks – I had no idea there was a great possibility literally at my finger tips. The Friends of QueensWay are proposing to bring green, open space to hundreds of thousands of locals. When I saw that Friends of the QueensWay were planning to host a cycling tour of the areas surrounding the proposed QueensWay I just had to join in.
I pumped up my bike tires and strapped on my trusty helmet. It had been a while since I'd taken a long ride, so ten miles in one day was going to be a challenge. I convinced myself that if I got the chance to see my neighborhood in a new light, it was going to be worth it.
Honestly, it was the best day out I've had in my borough. The tour was led by affable visionary Peter Beadle, an incredibly knowledgeable local. He guided us through the streets of Queens in a way I had never experienced before.
I was introduced to new neighborhoods, and I saw areas I'd usually buzz past in a car or bus, up-close and in person in all of its magnificent detail. I met a host of friendly locals and, as an added benefit, did something active that got my body moving. The thing I loved the most though, was uncovering a hidden treasure of my borough. I'd like to share my thoughts on why a new park in Queens would be beneficial for all of us:
Secrets of Central Queens. There are plenty of articles detailing the secrets of Manhattan – but did you know Queens has some of her own? For many (including myself) the LIRR Rockaway line tracks are a "hidden in plain sight" secret – it's been abandoned for over 50 years! There's even a secret underground station in Ozone Park and an ever-changing urban art gallery under the Jackie Robinson overpass.                                                                                              But the biggest thing I saw was the potential. Currently the railway is overrun with plants, trees, various rubbish and even animal traps. The homeless hang out in camps there too – generally making the place a rather unsavory location to visit. But, with the proposed plan from Friends of the Queensway,, I saw the beautiful green space it could be.
Access to Green Space is Rare – But it Doesn't Have to Be. New York City's optimal benchmark for park space per 1,000 people is 2.5 acres. This program is specifically designed to encourage access to public, green space for New Yorkers. Being able to stroll under trees, go for a quick bike ride, or have a leisurely picnic is especially important. In fact, people who live within a mile of a park have an average of 40% more exercise sessions per week, and are four times likely to use the park.                                                              Unfortunately in the Southern parts of Queens, residents have to walk further (over 1 mile) to get to a park. Families in this area have to slog through a longer commute to green space than anyone else in New York City. The QueensWay would be a convenient and happy alternative.
Cycling Around Queens is Tough. The weaving path we took along our QueensWay tour route wasn't for sightseeing purposes, it was a necessity to follow road rules, avoid high traffic congestion and potentially dangerous roadways. In fact, some parts were pretty scary! Luckily we were travelling in a group, with safety in numbers and experienced ride leaders. But not everyone has that on their weekend leisure ride.                                                                                 It astounds me just how few on-street bike lanes, and even less dedicated bike paths, you see in Central Queens. It doesn't have to be that way. With a neighborhood park/trail like QueensWay, cycling (and walking, jogging, skateboarding, rollerblading for that matter) between neighborhoods will be fun and most importantly safe. Only 3.5 miles to travel from Ozone Park to Rego Park, with on-street connections to Flushing Meadows Corona Park, and the many attractions within such as Queens Zoo, Queens Museum, CitiField, and the USTA.                                                                                         A dedicated bike path along the route of the QueensWay could even encourage bike share programs like CitiBike to expand here. There are a plethora of possibilities.
I love my neighborhood even more, thanks to the QueensWay bike tour. I've learned a lot, and am excited for the beautiful future of central Queens.
I can't wait for the next bike tour to pick up more secrets, tips, and tricks on how we can make the most of our wonderful borough.
Join me on the next scheduled bike tour. Sign up for the QueensWay newsletter for your invite.