Events
Creating Art from LIRR Ruins with Matt Jensen and The QueensWay
June 21st, 2017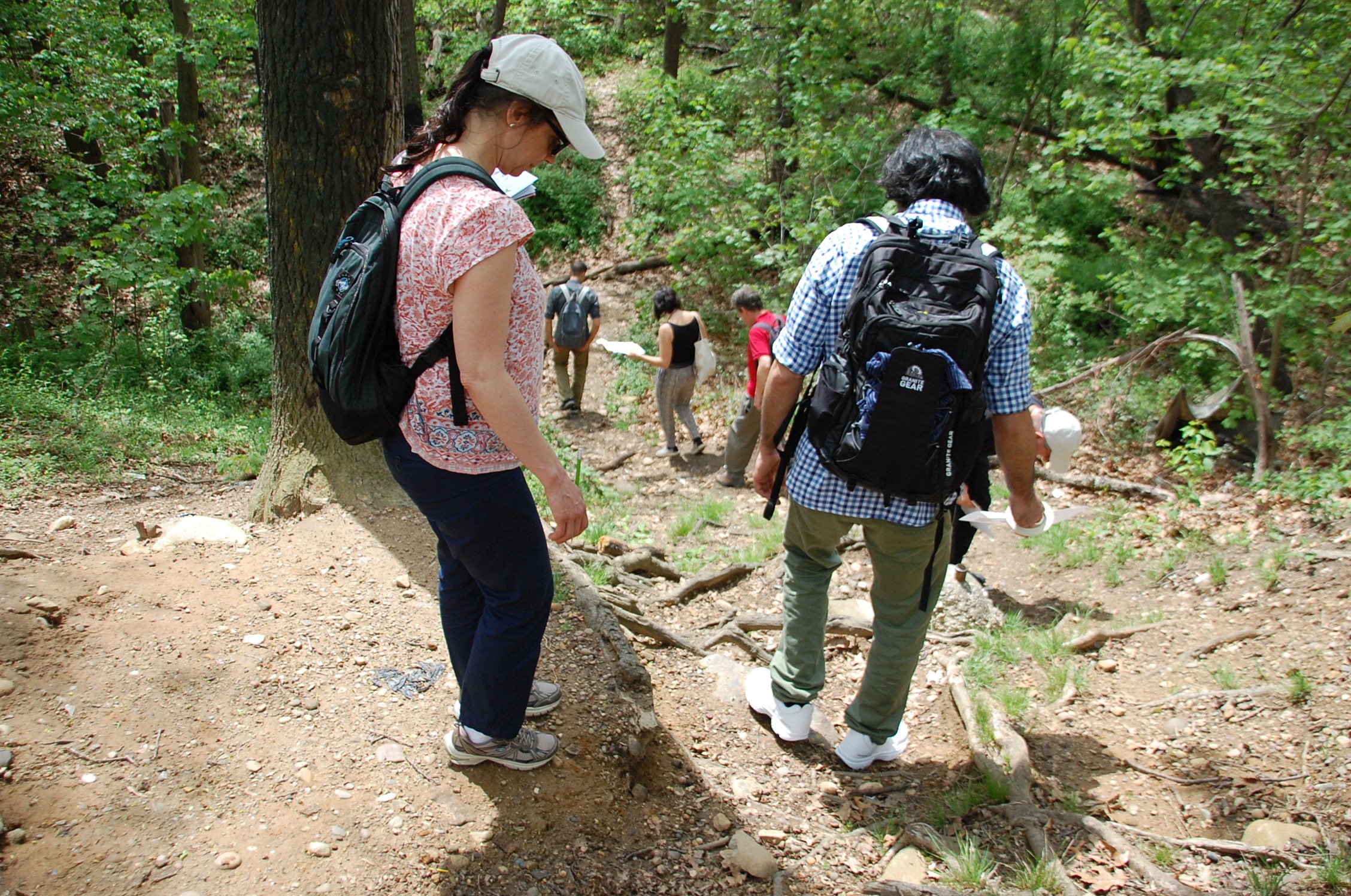 Creating Art from LIRR Ruins with Matt Jensen and The QueensWay by: Tarley Jordan
Saturday, April 29, was a lovely spring day in Queens, New York. The sun was shining and the air was warm as we took an artist-led walk with Matthew Jensen through a long-abandoned LIRR rail corridor.
Matt, previously an artist-in-residence at the Queens Museum/Artbuilt Studio in the Park (2015) describes the area we explored as the 'end of many dead ends' — where residential streets run up to the derelict LIRR rail tracks that slice through the neighborhoods of Rego Park, Forest Hills, Richmond Hill, Woodhaven, Ozone Park and South Ozone Park.
Matt's intimate knowledge of all these neighborhoods and the proposed path of The QueensWay comes from his research for a photographic series which was commissioned by the Trust for Public Land, making him a knowledgeable and engaging guide.
As Matt took us along one of the many routes he has travelled for his book, we viewed the overgrown rail line (the proposed QueensWay corridor) through a different lens. Instead of envisioning the park in its former glory as a working railway, or in its proposed future as a community park, Matt encouraged us to look for the small details that can be overlooked in the hustle and bustle of everyday life — a rusted catenary tower, the white flowers of a dogwood tree floating in a sea of green, the complex topography surrounding the corridor. He tasked our group with absorbing and observing our surroundings, just as they were– to allow them to inspire us in creating a site-specific artwork.
The foundation for our artwork was a map of the decommissioned rail track and its surrounding 'dead end' streets. The stark white of the page was our museum space for the day, a physical form that represents the space of our mind that holds our memories. This canvas held the artifacts we found along our walk. See the items our group found and creatively composed in the photo gallery below.
Our group wandered from Richmond Hill into Forest Park, and then onto the publicly accessible section of the old LIRR tracks, all the while collecting and creating. Artifacts, garbage, greenery, colorful flakes of graffiti paint and other items helped tell the story of this place– a place whose story evokes ruin and disrepair, but one day could tell a very different story.
Along the way we saw graffiti murals , decaying wooden railway ties, and evidence of stray cats and wild birds fed by humans. We also encountered one family trying to explore the tracks as a Saturday afternoon adventure with stroller in tow, some fantastic migratory birds, and evidence of fire pits.
Meandering through a variety of landscapes offers scenery that is unlike other rails-to-trails projects in New York with which you might be familiar. The track has a variety of widths, elevations, and foundations from ravines and valleys, to a steeply elevated hillside and traditionally elevated structural rail track. We daydreamed about what this rugged place would look like transformed into a 3.5 mile linear park and off-street pedestrian walk and cycle trail that the community could benefit from.
Take a look at our artist-led walk and artwork creations in the photo gallery below, and Matt's photo studies of The QueensWay, A Place That Moves People, is available to purchase on Blurb.