Event Announcement
Cyclists Prepare to Ride Along QueensWay
Saturday, Mar 15, 2014
9:30 am – 2:00 pm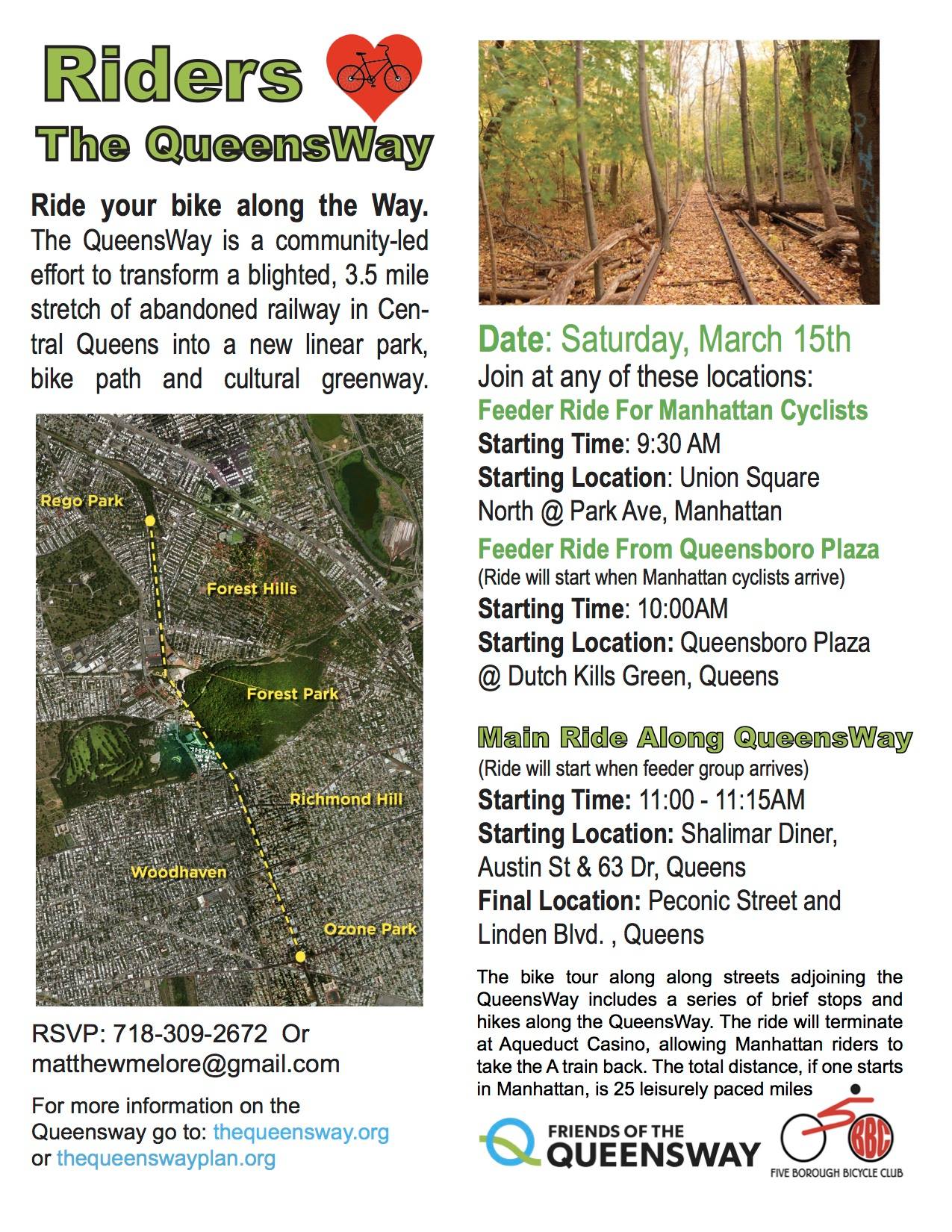 Is the polar vortex getting on your last nerve? Does the idea of green grass, blue skies and budding trees fill you with a sense of hope for a better season yet to come? Then, come join Friends of the QueensWay on Saturday, March 15th for a bike tour of the streets adjoining the QueensWay. Intrepid cyclists will be led by a tour guide, while they cycle south through the neighborhoods of Rego Park, Forest Hills, Richmond Hill, Woodhaven, and Ozone Park.
You have the opportunity to meet us in three different starting points, depending on whether you want to start in Manhattan, or Queens. The bike tour will not be on the QueensWay itself, but rather on the streets parallel to the Way. Do not fret over not being able to explore the QueensWay for yourself, there will be a few brief excursions, so you can finally see what all the fuss is about.
To RSVP email: [email protected] or call 718-309-2672
Also, check out this article on the bike tour from DNAinfo Here
PLEASE NOTE THE MEETING TIMES according to your starting location:
Feeder Ride For Manhattan Cyclists
Starting Time: 9:30 AM
Starting Location: Union Square North @ Park Ave, Manhattan
Feeder Ride From Queensboro Plaza
(Ride will start when Manhattan cyclists arrive)
Starting Time: 10:00AM
Starting Location: Queensboro Plaza @ Dutch Kills Green, Queens

MAIN RIDE Along The Queensway
(Ride will start when feeder group arrives)
Starting Time: 11:00 – 11:15AM
Starting Location: Shalimar Diner, Austin St & 63 Dr, Queens

Final Location: Peconic Street and Linden Blvd. , Queens
The ride will terminate at Aqueduct Casino, allowing Manhattan riders to take the A train back. The total distance, if one starts in Manhattan, is 25 leisurely paced miles.
Shalimar Diner, Queens, NY, United States