Event Announcement
QueensWay Community Spring Workshop 1
Monday, Mar 24, 2014
7:00 pm – 9:00 pm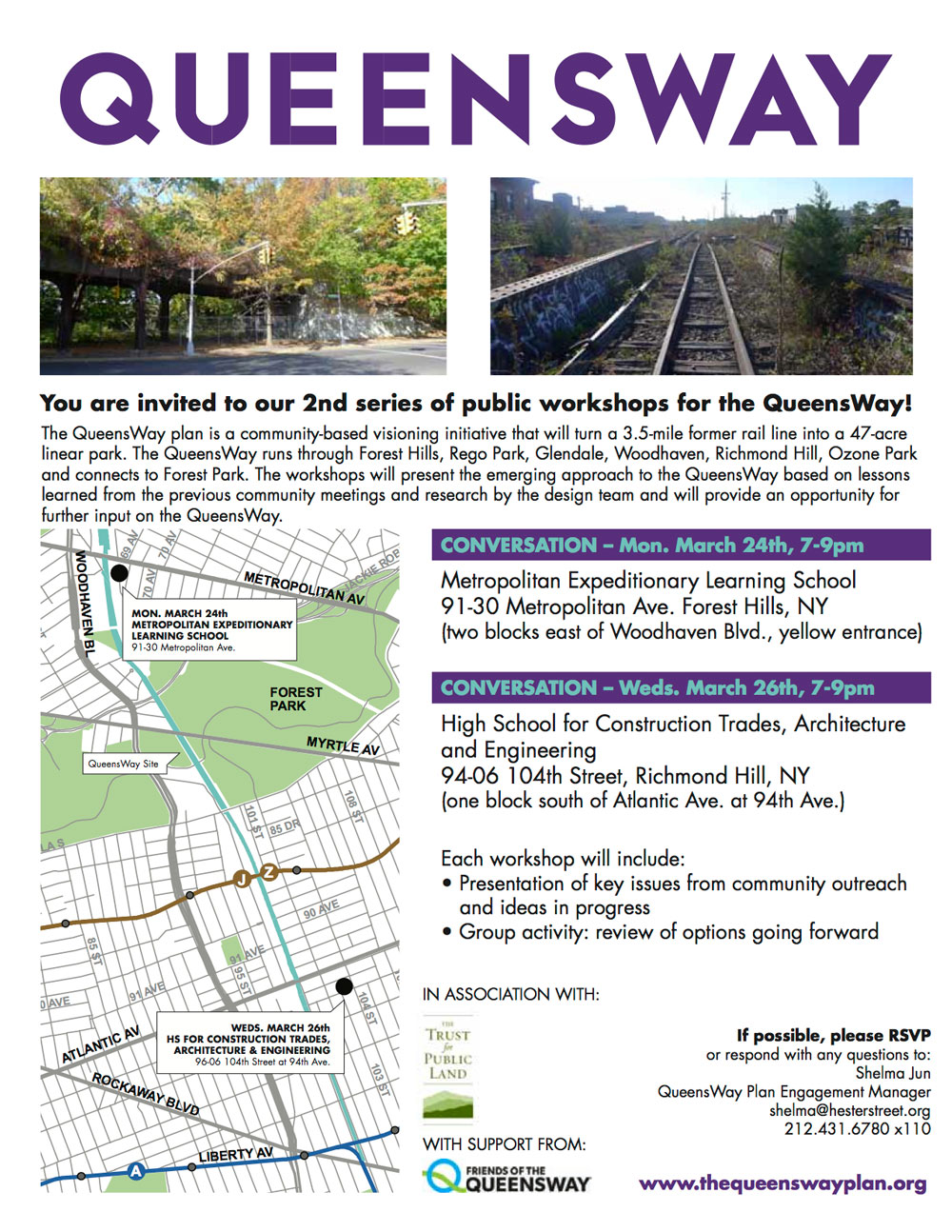 Notice: Second Round of Public Workshops Announced
The Friends of the QueensWay and the Trust for Public Land today announced the second round of public community workshops as a part of the QueensWay feasibility and planning project. The upcoming workshops will held on Monday, March 24th at the Metropolitan Expeditionary Learning School (MELS) in Forest Hills, and Wednesday, March 26that the High School for Construction Trades, Architecture and Engineering in Richmond Hill.   At each of the scheduled workshops, facilitators will present a variety of preliminary design concepts reflecting the QueensWay team's extensive site analysis, as well as ideas contributed by local residents during November's planning workshops, and through various other planning sessions. Workshop facilitators will also lead residents through further dialogue around a variety of topics and issues compiled from previous community input settings, including:
– New open space in areas of Queens that are currently underserved;
– A new kind of neighborhood park that will link to and enhance Forest Park;
– Ways to connect children with nature;
– Ideas on how to support adjacent play spaces for children (i.e. Little League fields);
– A safe alternative transportation path to Woodhaven Blvd. (Woodhaven Blvd, parallel to the proposed QueensWay, is Queens' most dangerous road), and easier trips to local schools, stores and places of work;
– Cultural activities and events that will highlight what makes Queens unique; and
– Ways to address safety and privacy concerns, among other topics.
Friends of the QueensWay and the Trust for Public Land said: "From the beginning of this project, we have been in awe at the amount of enthusiastic support, and stimulating ideas thousands of residents have contributed. As we embark on this next round of community meetings, we look forward to compiling additional input that will help bring us to the next phase of the project, and that much closer to developing a one-of-a-kind cultural greenway for the Queens community."
Workshop #1
Monday, March 24th from 7:00 p.m. – 9:00 p.m.
Metropolitan Expeditionary Learning School 91-30 Metropolitan Avenue
(two blocks east of Woodhaven Blvd.)
Forest Hills *Enter in the yellow entrance
Workshop #2
Wednesday, March 26th from 7:00 p.m. – 9:00 p.m.
High School for Construction Trades, Architecture and Engineering 94-06 104th Street
(one block south of Atlantic Ave. at 94th Ave.)
Richmond Hill
The QueensWay plan is a community-led effort to transform an abandoned 3.5 mile stretch of railway in Central Queens into a new 47-acre linear park and cultural greenway. For more information on the QueensWay, including the upcoming community workshops, please visit www.thequeensway.org.  
Press Contact: Maggie McKeon [email protected] 315-730-5101
Metropolitan Expeditionary Learning School, Queens, NY, United States